Race Results
Send corrections, updates and boat information to info@duckdodge.com.
The following is a list of results for DuckDodge racing, going back to 1997.
Every attempt is made to identify the make, model and phrf-rating using a registry of active PHRF members (Local Registry). What are PHRF Ratings? (Info|PDF)
Note: PHRF ratings are not 100% translatable to lake-racing, however, they help to establish a benchmark of a boat's performance relative to other racers.
It is our hope that this will help to raise the visibility of boats which drastically out-compete other boats in their class and aid in making a more competitive race for every participant.
Race Statistics
After evaluating the results for the given time period, we've looked at all the winning boats for their start and compared the boat's PHRF rating against the start's range of allowed ratings. If the boat was found to out-class all other boats in the start, they are included below.
Super Yachts with a PHRF rating <= 60, that choose to compete are also included, as they are the initial trigger for boats starting in 2nd start (as they can't be beaten by normal 1st start boats).
| Start | # Boats Outclassing Start | % Boats Outclassing Start |
| --- | --- | --- |
| 1 | 0 out of 0 | 0.0% |
| 2 | 0 out of 0 | 0.0% |
| 3 | 0 out of 0 | 0.0% |
| 4 | 0 out of 0 | 0.0% |
Based on this information, it is recommended that Super Yachts should not be included in race results, as they are the catalyst for other boats moving up a start in an effort to have a more competitive race. In addition, boats that outclass their start should be moved into a faster start.
Start Times
Shortly before the race, the committee boat will display the course from a sign on the side of the boat. Besure to note how many laps, as it change depending on the wind.
NOTE: Collisions are on the rise, especially in 2nd start (which contains a majority of the boats). If you're a racer, regardless of your start, please remember not everyone on the water knows the rules or how to maneuver in tight conditions, try to give room and be aware of different skill-levels.
CLASS BREAKS: Kevin Dolan's Distance (Buchan 37 with PHRF:126) is considered the slowest boat in 1st start. Any boat faster or equal to this boat should be in 1st start. If you are racing in any other start, please move up.
Start
Time
Boat Types
Speed (Info|PDF)
Comment
Use good judgement, if you win all the time, maybe you should move up a start.
1st Start
7:00pm
Fast Boats
PHRF < 127
Race Boats and Boats with Race Crews (Kevin's Dolan's DISTANCE is the cut-off)
Farr 30, Flying Tiger 10m, J30/37/80/100/105, Olson 30, etc
2nd Start
7:05pm
Half Fast Boats
PHRF < 216
Flying Sails, Semi-Competitive
J22/24/27, Hotfoot 27, SC27, Ranger 26/29/29/30/32/33/37, etc
3rd Start
7:10pm
Cruising/Slow Boats
PHRF >= 216
Slow, Non-Flying Sails, Non-Competitive
Catalina 27, Newport 28, San Juan 24, Columbia 26, Santana 20, Ranger 22/23, etc
4th Start
7:15pm
Dinghy Class
Give'em a Beer
Race Schedule (Themes)
Every week, a theme is assigned for the given race with a "Black Duck awarded to the best boat. Unless you have a fast boat for your start, this is your best chance for a sticker.
| Date | Race Theme |
| --- | --- |
| May 7 | Committee Appreciation (Skippers Choice) |
| May 14 | Game of Thrones |
| May 21 | Star Wars (and other out of this world things) |
| May 28 | Smells like....Team Spirit |
| June 4 | Crazy Wigs |
| June 11 | Decades (50s, 60s, 70s....you pick) |
| June 18 | Mardi Gras |
| June 25 | Prom |
| July 2 | NO DUCK DODGE |
| July 9 | Pirate |
| July 16 | Pajama |
| July 23 | Christmas in July |
| July 30 | Welcome to the Jungle |
| August 6 | Toga |
| August 13 | Tropical |
| August 20 | Great Gatsby |
| August 27 | Pink Boat |
| September 3 | Committee ReAppreciation (Sesame Street) |
| September 28 | Rum Run |
Race Rules
Registration: Sail by the committee boat before the start and hail with your START NUMBER. Ensure that they acknowledge you, sail out of the area. Thanks it! There are no customers, unless you go really way off course.
Rule #
Rule Desc
Rule 1
COLREGS Section II, Rule 12

Starboard Tack has Right of Way
Windward gives way to Leeward (if both on Starboard)
Rule 2
Rules of the (Nautical) Road aka COLREGS
NOTE: These are not that same as the rules for driving a vehicle on roadway.
Rule 3
No hitting one-another(With or without boats)
Rule 4
Take all marks to PORT unless noted on Race Course
Rule 5
No hitting one-another
Rule 6
Bribing the committee is against the rules (while anybody is looking)
Rule 7
No hitting one-another
Rule 8
There is no rule number 8
Rule 9
No hitting one-another
Rule 10
Follow all the rules
Rule 11
No hitting one-another
Rule 12
Never make a duck change its course (Dodge the Duck)
Raft Up Information
After the race, about 50% of the boat choose to raft-up with the committee boat and continue their revelry. It's worth doing once. But mostly, it's for people that are more interested in dressing-up and drinking.

Warning: The raft up is overwhelmingly represented by Bro's and Bra's who sometimes need adult supervision to keep boats from being broken, damaged or items stolen.
Rafting is for the "party" at the end of the racing
Rafting is performed on either side of the committee boat
Rafting, if you are a big boat (30+ feet), be on the inside of the raft-up. If you are small, wait and take an outside spot.
When rafting-up, make sure you have the attention of your boat's crew as well as the other boat's skipper/crew
When rafting-up, have lines ready at both the bow and stern of your boat
Raft breaks up at 10pm, listen for the HORN!
HORN! If you hear the horn, that means the raft-up is going to break-up. GET TO YOUR BOAT ASAP!
When leaving the raft, make sure you have clear communications with all affected boat skippers
When crossing boats in the raft, make sure you always cross at the bow of the boats
When crossing boats in the raft, be careful of what you are stepping on and wear appropriate shoes (spiked heels are a no-no)
When crossing boats in the raft, always gain permission before entering the cockpit or cabin of another boat
Participating in the raft gives implicit permission for people to board your boat
If you need to leave earlier than 10pm, raft-up as one of the last boats
Duck Dodge "virgins", crew members should be versed in the rules before leaving your boat to walk to raft
Duck Dodge "virgins", there is a tradition of "kissing the master or the mast" of each boat your walk across (if offended, don't feel pressured)
Please be considerate of other boats and ask for details from your skipper on additional etiquette.
Historical Information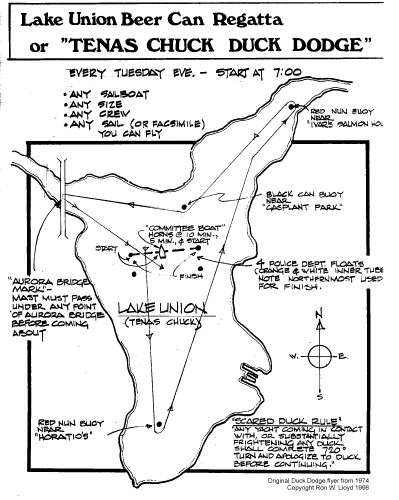 Click to Enlarge
Actually, the original name was the "Tenas Chuck Duck Dodge". Tenas Chuck is the native american name for Lake Union (Chuck means "water", as in the Pilchuck, Skookumchuck, Chuckanut, Saltchuck, etc.) Duck Dodge one would assume means that in order to navigate the course one must either duck Dodges or dodge ducks. Since there are probably more ducks on Lake Union than Dodges, it is safe to assume the latter.
The original handbill announcing the first (technically second) Duck Dodge in 1974 actually has a sub-title of "Lake Union Beer Can Regatta". This was included because a friend of mine was worried that people wouldn't "get it" if we just called it the Duck Dodge.
Anyway, just some worthless trivia for you. I have much much more if anyone cares.
Ron Lloyd,
Co-founder of the Duck Dodge
(With Mike Rice and Bruce Gilbert)